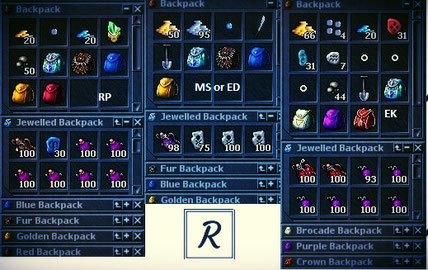 Remember keep all backpacks like is write in [CONFIG] file don't put your own colours!!!
Scripts start in protecion zone not outside of!!!
Scripts withdrawing items from 3rd depot box counting from left, so put there brown mushroom (not required) some scripts withdraw dwarven rings also put to 3rd depot box Scripts for Pally Withdraw Assassin Stars also from 3rd Box of Depot. If will any trouble and question please make post on our forum im repply quick as i can :) 
Choose one of those scripts below,  copy name of script while "payment note" write name of a script that you have chosen 
Remember its a single price of 1 script from shelf
Every shelf have different price depense of how advanced is script, scripts are 100% afk good quality.
---
[100+ EK] Heliar Dragon Lords 8 Liberty Bay
[122+EK] Behemoths Asylum
[133+ EK] Destroyers Asylum
[150+ EK] Wyrms Heliar Liberty Bay
[150+ EK] Wyrms Heliar North Liberty Bay
[150+ EK] Wyrms Liberty Bay
[150+EK] Destroyers Engran [12] Liberty Bay
[200+ EK] Medusa Engran [6] Liberty Bay
---
[40+RP] Asylum [4] South Dragons
[100+RP] Heliar Dragon Lord[8] Liberty Bay
[122+RP] Behemoths Asylum
[133+ RP] Destroyers Asylum
[150+ RP] Wyrms Heliar Liberty Bay
[150+ RP] Wyrms Heliar North Liberty Bay
[150+ RP] Wyrms Liberty Bay
[150+RP] Destroyers Engran [12] Liberty Bay
[188+RP] Drakens Heliar [15] Liberty Bay
[200+ RP] Medusa Engran [6] Liberty Bay
---
[100+ M] Heliar Dragon Lords 8 Liberty Bay
[122+M] Behemoths Asylum
[133+ M] Destroyers Asylum
[150+ M] Wyrms Heliar Liberty Bay
[150+ M] Wyrms Heliar North Liberty Bay
[150+ M] Wyrms Liberty Bay
[150+M] Behemoths Engran [5] Liberty Bay
[150+M] Destroyers Engran [12] Liberty Bay
[166+M] Lizards Heliar [13] Liberty Bay
[188+M] Drakens Heliar [15] Liberty Bay
[200+ M] Medusa Engran [6] Liberty Bay
[200+M] Behemoths Asylum
[100+EK] Engran Dragon Lord Liberty Bay
[120+EK] Hydra Heliar [14] Liberty Bay
[133+EK] Serpent Spawn Asylum
[145+ EK] Minotaurs South Oramond
[150+EK] Behemoths Engran [5] Liberty Bay
[150+EK] Behemoths Liberty Bay
[155+ EK] Minotaurs East Oramond
[170+ EK] Hidden Hydra Oramond
[175+ EK] Souleaters Farmine
[175+ EK] Souleaters Heliar Liberty Bay
[200+ EK] Glooth Bandit West
[200+ EK] Heliar Fury [12] Liberty Bay
[200+ EK] Glooth Bandit South
[200+ EK] Heliar [1] Grim Reapers Liberty Bay
[200+ EK] Heliar [1] Grim Reapers
[200+ EK] Undeads Dragon Heliar 3
[200+EK] Behemoths Edron Liberty Bay
[220+ EK] Heliar [5] grims,nightmare Liberty Bay
[220+ EK] Heliar [5] grims,nightmare
[225+ EK] Asuras Palace Liberty Bay
[225+ EK] Medusa Tower Liberty Bay
[230+ EK] Serpent Spawn Engran Venore
[230+ EK] Serpent Spawn Kaltia Venore
[300 EK] ORAMOND TOWER
[300+ EK] Behemoth Heliar Venore
[100+RP] Engran Dragon Lord Liberty Bay
[120+RP] Hydra Heliar [14] Liberty Bay
[133+RP] Serpent Spawn Asylum
[145+ RP] Minotaurs South Oramond
[150+RP] Behemoths Engran [5] Liberty Bay
[150+RP] Behemoths Liberty Bay
[155+ RP] Minotaurs East Oramond
[170+ RP] Hidden Hydra Oramond
[175+ RP] Souleaters Farmine
[175+ RP] Souleaters Heliar Liberty Bay
[190+ RP] Seacrest Serpent Oramond
[200+ RP] Heliar Fury [12] Liberty Bay
[200+ RP] Ghastly Dragon Farmine
[200+ RP] Glooth Bandit East
[200+ RP] Glooth Bandit South
[200+ RP] Glooth Bandit West
[200+ RP] Heliar [1] Grim Reapers Liberty Bay
[200+RP] Behemoths Edron Liberty Bay
[200+RP] Undeads Dragon Engran Liberty Bay
[200+RP] Undeads Dragon Heliar Liberty Bay
[213+ RP] Cursed Island Asylum
[220+ RP] Heliar [5] grims,nightmare Liberty Bay
[220+ RP] Heliar [5] grims,nightmare minus 1
[220+ RP] Heliar [5] grims,nightmare
[225+ RP] Medusa Tower Liberty Bay
[230+ RP] Serpent Spawn Engran Venore
[230+ RP] Serpent Spawn Kaltia Venore
[300 RP] ORAMOND TOWER
[300+ RP] Behemoth Heliar Venore
[300+RP]Oramond East Catacumbs
[300+RP]Oramond West Catacumbs
[RP] 5 Spike West Aurera [230]
[MS] 5 Spike West Aurera[250]
[330+ M] Banuta Kolko Yalahar Aurera
[100+M] Engran Dragon Lord Liberty Bay
[120+M] Hydra Heliar [14] Liberty Bay
[133+M] Serpent Spawn Asylum
[145+ M] Minotaurs South Oramond
[150+M] Behemoths Liberty Bay
[155+ M] Minotaurs East Oramond
[170+ M] Hidden Hydra Oramond SD
[175+ M] Souleaters Farmine
[175+ M] Souleaters Heliar Liberty Bay
[199+ M] Hero Fortess Edron Liberty Bay
[200+ M] Heliar Fury [12] Liberty Bay
[200+M] Behemoths Edron Liberty Bay
[200+M] high class lizards darashia heliar
[212+M] Lizards Heliar [7] Liberty Bay
[230+ M] Serpent Spawn Engran Venore
[230+ M] Serpent Spawn Kaltia Venore
[250+ M] Oxidia Hellspawn Demon
[250+ M][Pvp Safe]Brimstone Bugs Surface
[300+ M] Behemoth Heliar Venore
[300+ M] Heliar [5] GRIMS MINUS 1 Liberty Bay
[308+ M] Fury Factions Engran Liberty Bay
[315+ M] Fury Oramond
[330+ M] Banuta Kolko Yalahar
[350+ M] Lizard Walls Farmine
[400 + M] Banuta Minus 3
[150+ EK] New Wyrms Liberty Bay
[190+ EK] Seacrest Serpent Oramond
[200+ EK] Asuras Palace
[200+ EK] Ghastly Dragon Farmine Castle
[200+ EK] Ghastly Dragon Farmine
[200+ EK] Glooth Bandit East
[211+EK] Hellhound Engran Liberty Bay
[217+ EK] Demon Heliar [9] Liberty Bay
[257+ EK] Draken Farmine Castle
[257+ RP] Draken Farmine Castle
[300+ EK] Horrors Roshamuul North East
[300+ EK] Prison Minus 2
[377+ EK] GrimDemon Oramond
[410+ EK] Lizard Walls
[340+ RP] Ferumbras Tower Liberty Bay Aurera
[150+ RP] New Wyrms Liberty Bay
[200+ RP] Ghastly Dragon Farmine Castle
[211+RP] Hellhound Engran Liberty Bay
[217+ RP] Demon Heliar [9] Liberty Bay
[225+ RP] Asuras Palace Liberty Bay
[250+ RP] Oxidia Hellspawn Demon
[300+ RP] Horrors Roshamuul North East
[300RP] SPIKE EAST 5
[300RP] SPIKE EAST 6
[300RP] SPIKE NORTH EAST 7
[300RP] SPIKE SOUTH EAST 7
[300RP] SPIKE SOUTH WEST 7
[300RP] SPIKE WEST 5
[300RP] SPIKE WEST 6
[315+ RP] Fury Oramond
[333+ RP] Minotaurs Above Fury Oramond
[340+ RP] Ferumbras Tower Liberty Bay
[350+ RP] Prison Minus 1
[377+ RP] GrimDemon Oramond
[400 + RP] POI DT
[400 + RP] POI HFF
[400+ RP] Defilery Inq
[400+ RP] Horrors Roshamuul Hardcore
[400+ RP] Lizard Walls
[400+ RP] POI PLAGUE
[400+ RP] Prison Minus 2
[400+ RP] Undeads Dragon Oramond
[150+ M] New Wyrms Liberty Bay
[200+ M] Demon Engran Darashia
[211+M] Hellhound Engran Liberty Bay
[217+ M] Demon Heliar [9] Liberty Bay
[300+M]SPIKE EAST 5
[300+M]SPIKE WEST 5
[300+M]SPIKE WEST 6
[300+M]SPIKE EAST 6
[300+M]SPIKE NORTH EAST 7
[300+M]SPIKE SOUTH EAST 7
[300+M]SPIKE SOUTH WEST 7
[333+ M] Minotaurs Above Fury Oramond
[400+ M] Banuta Lowest Yalahar
[50+EK] Dragon Tiquanda Ankrahmun
[140+ EK] POI Dragon Lord Liberty Bay
[245+ EK] Demon DHQ Liberty Bay
[270+ EK] Goroma Demons Liberty Bay
[277+ EK] Demon Engran Liberty Bay
[200 RP] Warlock Demona[Gunzodus]
[245+ RP] Demon DHQ Liberty Bay[aureraglobal]
[140+ RP] POI Dragon Lord Liberty Bay
[200 RP] Warlock Demona
[245+ RP] Demon DHQ Liberty Bay
[270+ RP] Goroma Demons Liberty Bay
[277+ EK] Demon Engran Liberty Bay
[50+M] Dragon Tiquanda Ankrahmun
[140+ M] POI Dragon Lord Liberty Bay
[175+ M] WARLOCKS DEMONA
[270+ M] Goroma Demons Liberty Bay
[277+ M] Demon Engran Liberty Bay
[Mage]War Golems Engran Venore[250+]